Air Cleaners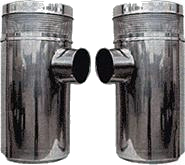 If you are looking to buy new and/or used truck air cleaners for your heavy duty truck application, we are your leading source! We offer solid stainless steel construction for many makes and models. Our standard size is 15" which includes solid 18" stainless steel construction, measuring 33" tall x 15" diameter with a 7" air inlet. While we primarily carry the standard 15" size, we are able to accommodate any size, model or quantity you may require. Please let us know what you are looking for and we will do our best to find the model or size you require.
At Sam's, we buy and sell truck air cleaners of various makes and models to fit your heavy duty truck application. Some of the manufacturers we are able to accommodate, include:
• Peterbilt
• Freightliner
• Kenworth
• Volvo
• Ford
• Mack
• Western Star
• and more....
Our new models are top-of-the-line. You can count on cleaner air flowing through your engine as a result of a tight seal. Air flow restriction and dust holding capacity are of great importance. Our new models remove more contaminants flowing through the air intake system. This in turn increases your engine performance (horsepower) and fuel efficiency for those huge loads and cross-country driving.